Ask any professional outdoors what is the most important tool that they have as part of their gear? The most common answer is definitely the knife and the more quality you have in your knife, the more you can do with it. A top quality knife also serves as a tactical weapon that can keep you protected when you are attacked or in need of a weapon.
We have done hours of research to find a good quality knife that will benefit the outdoor lovers and also ensure that can do more than simply just cut down a few small branches. The Celtibero Tactical Knife by CDS is one of the top options we found and we have done some research into the features. In this article, you can find out if it is the knife for you.
Technical Specifications:
Fixed Blade design

Constructed from Stainless Steel Molybdenum-Vanadium 58

The overall length of only 10.82-inches

Blade length is 5.70-inches

Genuine leather sheath included

It comes with a fire steel and sharpener stone

Cocobolo wood

is used for the handle

Handmade knife with a laser-cut blade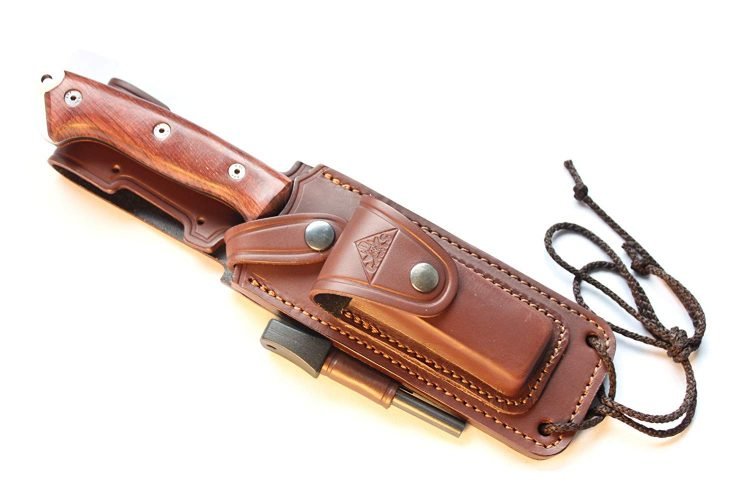 Our Thoughts:
The number of good quality knives that are available is off the charts. This means that for a knife to be a good option, it needs to have something special that will make it stand out. It needs to show you why you should consider buying it instead of something else that could even be cheaper.
The Celtibero Tactical Knife by CDS Survival has everything that makes a knife special. It is designed by hand and features a carved cocobolo wood handle that is made specifically for ergonomic purposes. Please note that this knife also comes in black with a Micarta handle and not just Coco. Since the knife is 10.82-inches long in totality and the blade is 5.70-inches, it means you have more than 5-inches left that is used for the handle and should ensure you have comfort.
While the knife is not designed for stabbing or any other tactical purposes, the fixed blade design makes it perfect for cutting and reduces the risk of you accidentally hurting yourself when you are cutting. The blade bulges out a fair bit where it meets the handle. This will keep your hands from accidentally sliding over onto the blade.
However, the main draw is not the design or even the quality of the blade, but the versatility that this entire package will offer users. It includes a state of the art fire steel that makes it easy for you to actually start a fire in the wilderness, making it a plausible bushcraft knife. It is worth noting that you might need some practice to understand exactly how to use it with the knife.
How to use a fire steel with a knife:
Additionally, we also look at a knife and always recommend that you use it when it is sharp. A sharp knife is much easier to use and will reduce the risk of you hurting yourself. Should you have some time at the camp at night, you can use the sharpener stone to slowly sharpen the blade and ensure that it does remain ideal for cutting and working outdoors.
The leather sheath is also something we cannot simply skip by and it offers you a lot of functionality. Not only can you put your fire steel and your sharpener stone inside the sheath, but it also brings some durability to the table. The knife will be protected, but more importantly, you will be protected when moving it around. It is worth noting that the sheath can be mounted to carry the knife along as needed.
This full tang knife is also perfectly balanced and can be used for hunting as well. The overall design makes it flexible, but the sheath does feel a little out of place. It does offer a lot of protection and durability for the knife, but the bulky design could be a little frustrating for many people to carry around when not in the backcountry.
It can also be frustrating when the knife is sharp and you place it back into the sheath only to find that the locking strap is cut. It takes some time to figure out exactly how to use it and to put it back into the sheath without any additional issues. The leather sheath is beautifully crafted and very durable.
What We Like:
Lightweight and compact design

Really sharp out of the box

Durable construction with an ergonomic handle

Genuine leather sheath

Well balanced and full tang

A fire steel and

sharpener stone

has been included

Limited lifetime warranty included
What We Didn't Like:
Sheath tends to feel a little bulky

Takes some time to get used to all the features
Should You Buy It?
If you are looking for a great knife that can actually get the job done outdoors, but will still be light enough for everyday carry, the Celtibero Tactical Knife is the best option for you. It might not have the most comfortable of sheaths, but you can easily get past this and perhaps even replace it if you feel the need to do so. 
With the limited lifetime warranty included, we believe it has a fair price and should offer you some excellent value for your money. Since it is a quality knife and a lot of care has been taken in the design and the overall construction, it is no secret that we like it. We would certainly recommend it as a survival knife.
Wrap-Up:
The Celtibero Tactical Knife is a decent knife to add to your collection and all of these features will certainly make some sort of difference to your experience. It is a knife that is used by many people for everyday carry and the fire steel adds to the versatility when you are camping or even backpacking. Overall, it is an excellent knife to choose.
I hope that this knife will help you as much as it did us and we would love to see some of your comments in the comment section below. Let us know if we might have missed any important features.
Jean lives in Vanderbijlpark, South Africa. He is an outdoor enthusiast with years of experience reviewing gear. Jean holds a Bachelor of Commerce in Industrial and Organizational Psychology from North-West University.