The toughest camping chair ever built?
The brand Yeti is synonymous with the top coolers on the market today. They have built a name around producing the best camping coolers, but have the perhaps stumbled across the design of the best camping chair as well? A basic, yet sophisticated chair designed for every user to enjoy on their outdoor experience definitely got me curious and excited.
Once I heard about the Yeti Chair, I simply had to give it a go and find out for myself what all the fuss is about. The Hondo Base Camp Chair has a simple look that may not do much for those who love many features, but once you have it, you start to peel back the onion of excellence that is Yeti and find out why the brand has been in business since 2006.
If you are like me and you have had your fair share of encounters with flimsy chairs, I would definitely encourage you to continue reading to find out more about this chair!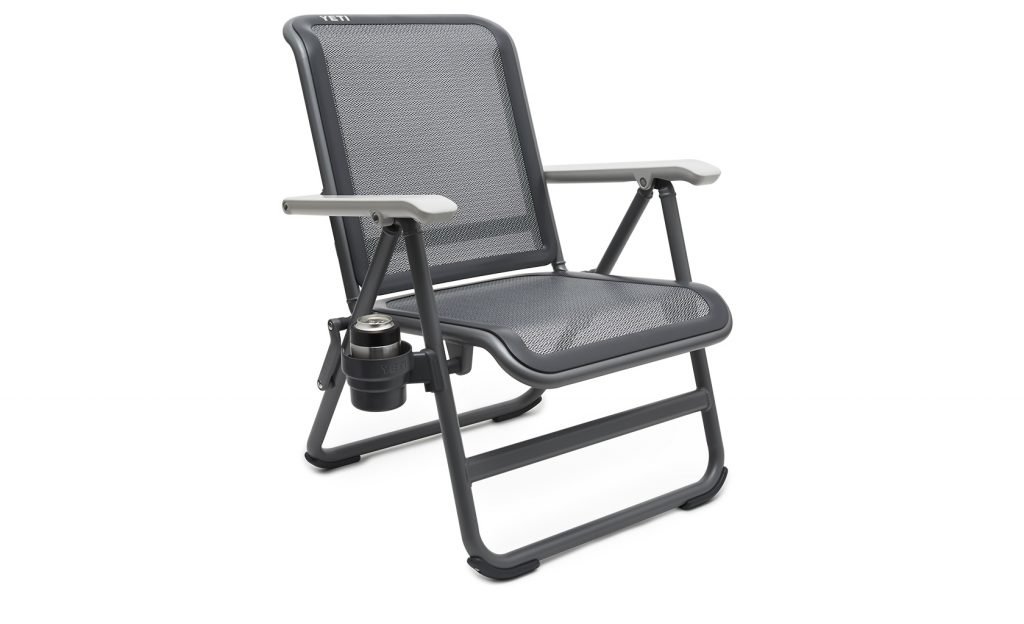 Technical Specifications:
Constructed from solid aircraft grade 6061 aluminum
Yeti suggests the chair has a 500-pound weight limit
Easybreathe mesh technology for optimal ventilation (Also patented)
GridGuard Mold Technology for optimal comfort and smoothness around the edges
UV protected coating
Small, yet durable cup holder
Stylish design
Easily foldable
Review:
At first glance, this chair might not be something that you really believe is much better than some of the others. Yes, the price tag is quite high, but once you kick back and relax it starts making sense and the breathable mesh technology adds excellent ventilation. Since EASYBREATHE is patented by Yeti, you can be sure not to find the same type of chair anywhere else, unless it is a knock-off.
The best part aside from the comfort factor is definitely the overall durability. According to Yeti, the Aircraft Grade Aluminum frame has been heat treated for 25-hours. The durability of the frame should hold over 3000-pounds, but the materials bring it down to a mere 500-pound. However, this is more than enough for your wife to sit on your lap without making a dent in the chair.
When comparing this chair to some of my older and flimsy chairs, one of the striking differences in the overall design. Some of the camping chairs have a square look with sharp edges, reducing the overall comfort level when seated. GridGuard Mold technology adds a molded layer to the chair, keeping you comfortable and also preventing any additional hazards for your children when they use the chair.
The cup holder seems rather small and it is not the most intriguing feature, but the avid tailgating community will enjoy having a drink close by. Being an avid Football supporter myself, this chairs serves a great purpose when it comes to a pregame barbecue at the stadium or even outside the RV. Once done, it can be folded and the 16. 5-pound weight limit is really light for carrying it around. 
The only problem is the lack of compensating features for the avid backpacker. If you love backpacking, you might have some troubles carrying the chair along. The hauler handle can be attached to your backpack, but this does occasionally cause some discomfort. However, it works best when carried by hand to your camping or sitting destination.
Lastly, I should mention the stability factor and I actually tried to tip the chair with as many realistic methods as possible. While it will easily be tipped from the bottom, the chair does not even budge when putting all of your weight on one side. Thanks to this feature, the chair is perfect for children to use. If something is childproof, it eliminates one extra worry for you as a parent when going outside.
What we like:
Extremely durable materials and frame
Breathable design with moisture wicking
Reasonable weight for campers and tailgaters
Childproof and safe to be used by all children, no matter their age
Unique technology included that you won't find elsewhere
Excellent stability
What we didn't like:
The price seems a little hefty
The chair is not the best fit for an avid backpacker
Here is a visual explanation of the Hondo Base Camping Chair: https://www.youtube.com/watch?v=Hilv7bDq6ZE
Should You Buy This Chair?
I have no doubt in my mind that this chair is definitely worth the investment. It might be a little expensive, but the chair will eventually make up for the price tag with quality and longevity. We don't always realize how much it actually costs to replace those flimsy chairs with another short-term solution until we see the long-term savings of a high-end option.
As mentioned, this is not the best option for your backpacking trips, but the multifunctional and foldable design means that I can use the chair at home or when I am going out. I like to store it in the RV or pickup for those uncomfortable work situations as well. Having your very own chair definitely makes a difference and also makes a statement.
Wrap-Up
Overall Yeti is a highly rated outdoor brand. Making their name with the best coolers, they took on the design of camping gear and to date, it has been a major success. The introduction of the Hondo Base Camping Chair is the Yeti chair that I am not regretting buying and it serves literally all of my outdoor and seating needs.
We would like to thank you for taking the time to scan through this article to find out more about this top of the range Yeti chair. It comes highly recommended and we would like to encourage you to share some of your thoughts if you have ever had the opportunity of using it. Also, let us know which other camping chairs you would like to see us review.