One of the essential parts of gear that any outdoor enthusiast should have, right up there with a good tent and a comfortable camping chair, is a high-quality cooler. Coolers are designed to keep your food fresh and drink cold while outdoors. With many great coolers available, you might be wondering which one is the right one for your outdoor needs.
The Polar Bear Coolers Original Nylon 24 Pack Soft Cooler is one of the most efficient cooler options we could find. It's designed with a soft material, making it flexible and easier to carry around. We'll take a look at some of the key features that have made this one of the most popular coolers around and give you some of our thoughts and opinions on it.
Build Quality
At first glance, the Polar Bear Coolers Original Soft Cooler might look like the average soft cooler. However, it is far more efficient than other standard soft coolers available. Since Polar Bear Coolers are obsessed with durability, the 840-Denier Nylon shell will protect it from any damage that nature (or you) might bestow upon it.
With a double-coated TPU Nylon inner, it is not only durable on the inside, with the ability to resist any damage done by sharp objects, but also keeps everything inside fresh too. An antimicrobial substance has been added to the nylon to ensure it is food grade and safe for you to use with your open food items.
Insulation
According to Polar Bear Coolers, the cooler will keep ice frozen in 100-degree heat for up to 24-hours. The insulation material used is a 1-inch thick, 10-gauge foam, rated as one of the best foam compositions keeping a cooler insulated. This foam insulation is the main source of keeping everything fresh and does not require maintenance. The Polar Bear Coolers Original Soft Cooler is one of the best coolers for those scorching summer days.
Leakproof
Not only is the nylon inner FDA Approved and anti-microbial, but it's also 100 leakproof. Added to this, the side pocket will keep some of your personal belongings dry, as it is also water-resistant. While the pocket is not particularly generous in size, it's enough for your small essential belongings. The YKK zippers have also been coated to ensure they don't succumb to any potential rust. Polar Bear Coolers have really paid attention to detail to this soft cooler.
Portability & Storage
One of the best features of this cooler is that it is so portable and easy to transport. With it being a soft cooler, storing it is even easier. When not in use, simply fold it up and store it in your closet.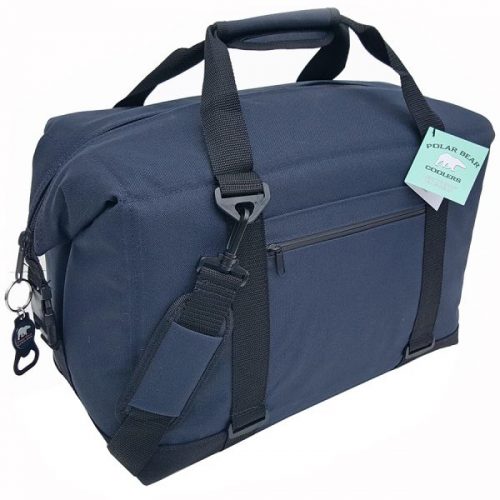 Cleaning
As with all coolers, remember to clean it thoroughly and leave it to dry completely before storing it. This ensures no mold growth occurs. Cleaning is simple; a wipe down should do the trick. The cooler should be cleaned by hand only, as it's not suitable for machine washing.
Velcro Handles
It is hard to find something wrong with this cooler, but one problem we had was the Velcro used for the handles. Unfortunately, they tend to rub on your hands a little, and this could be uncomfortable. If it does bother you, the additional carry strap will make it possible to carry the entire cooler on your shoulder. 
What We Like:
What We Don't Like:
Wrap Up – Should You Buy It?
The Polar Bear Coolers Original Nylon 24 Pack Soft Cooler is definitely a great investment that you can make. The cooler is designed to make life easier when you are outdoors, and it is guaranteed to keep everything cool and fresh. It might be a little expensive for most people, especially if you don't use a cooler too often, but it is worth it.
This cooler is not designed for those who don't spend a lot of time outdoors. It will help make sure everything remains fresh and can even be used on some of your camping trips. We would highly recommend the cooler for its features and durability. You will never need to buy another cooler ever again if you have this one.
If you are going on a trip and need to keep something fresh and cool, you can definitely rely on the Polar Bear Coolers. They are durable, so feel free to load them on the back of your truck with the rest of your gear. The quality stands out above many other soft coolers, and I would even consider it the best soft cooler currently on the market today. Quality will definitely be on your side when you buck out a couple of bucks for this amazing cooler.
Jean lives in Vanderbijlpark, South Africa. He is an outdoor enthusiast with years of experience reviewing gear. Jean holds a Bachelor of Commerce in Industrial and Organizational Psychology from North-West University.