Columbia River Knife & Tool was founded in 1994 by Paul Gillespi and Rod Bremner, both former employees of Kershaw Knives. Their breakthrough as knife makers came in 1997 when their K.I.S.S (Keep It Super Simple) knife sold an entire years' worth of stock in the first few days of Shot Show. The principle of the ultra-lightweight skeletonized knife has been copied by many since, but CRKT is where it began. 
The company often works with established custom knife makers to design the wide range of fixed and folding knives that they produce. The M16 knife we are reviewing today was designed by Harold 'Kit' Carson and includes several CRKT patented features. While patents in the knife-making world are not unique to CRKT, they hold a relatively high number for some of their innovative features.
Some of their patents include the 'veff' serrations, which feature in many knives. The M16 has the AutoLAWKS mechanism. CRKT hold fifteen patents and patents pending at the moment and can rightly claim to be at the forefront of folding knife technology;
"All CRKT knives and tools are built incorporating the most advanced equipment and production systems available. Our purpose is to provide useful improvements and entirely new product concepts that embrace our historic core company values of quality, innovation, and value."
One of their prevalent recent innovations is the field-strip technology integral to several of CRKT's flagship folding knives.
CRKT does make fixed blade knives such as the CRKT Saker, designed by Abe Elias for bushcrafters and outdoors people, shown below, but they are mainly well known for their rugged tactical and workman-like folders. 
The M16 10KZ is one of these rugged folding knives on which CRKT's reputation as a manufacturer of rugged but affordable knives. They may not use the same premium steels as some other manufacturers like Spyderco or Zero Tolerance, and some CRKT knives have suffered edge retention issues in the past. Still, they also don't command the same high prices, and losing one isn't a financial disaster. Direct customer feedback helped inform the design of this knife;
"We want an affordable work knife that we can give hard use without feeling guilty, and one that won't break us up if we leave it on a job site or drop it in the river."
So with those criteria in mind, the M16 10KZ is CRKT's answer to the age-old hunt for an affordable and rugged everyday carry knife. With a 3-inch cutting edge, it is the perfect size for everyday use, whether you will use it for opening boxes, cutting cable ties and packaging, or more robust tasks. With no superfluous auto-opening features or excessive size, it will be legal to carry almost everywhere and isn't so 'tactical' and aggressive looking that it will cause too many raised eyebrows.
The CKRT M16 Family
The M16 10KZ is one of the smaller knives in the M16 family, and some have a pronounced lean towards tactical, law enforcement, or emergency use in their design.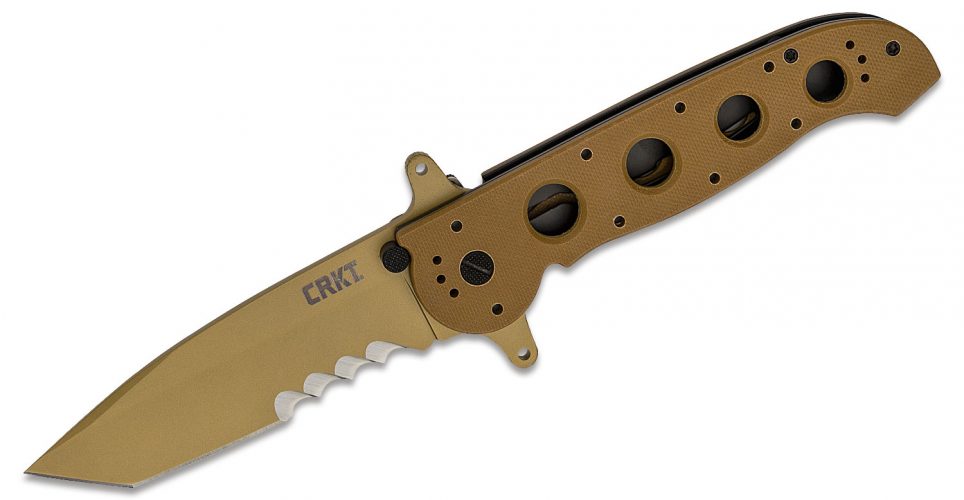 This is the CRKT M16-14DSFG with a finger guard, aggressive serrations, and drop point tanto blade, designed for tactical and military use. They also produce a similar 'Big Dog' model, which is almost identical to this model but features a 3.87-inch blade. 
The CRKT M16-14ZER explicitly designed for emergency personnel with an integrated seatbelt cutter and standard features.
The Blade
Most of the M16 family of knives, including the main feature of this review, the 10KZ model, feature a tanto-style point. Some do come with more typical western style drop point blades, but as far as an EDC blade for rough use goes, a tanto blade is a perfect choice. It provides a solid tip portion of the blade for prying and can be pressed to uses that a drop point blade simply wouldn't be up to.
Similar to any other well-designed working knife, you can open the 10KZ with one hand. You can fish it out of your pocket and deploy it with one hand occupied. To aid this, the Carson designed flipper features on this blade and can deploy the blade quickly. This flipper features a finger guard to prevent your finger from slipping onto the blade. The finger guard will help you index the knife in your hand even if you use it in the dark or reach somewhere out of sight and use your knife.
Part serrated blades aren't perfect for slicing tasks, but as the design rationale for this knife is a rugged working knife, the serrations only add to the design and make cutting rope, cord, and packaging much more straightforward. 
The Handle
The handles are made of Zytel and textured for grip, even in wet conditions. Still, to add rigidity to the design, they also feature steel liners making the handle practically indestructible. The choice of handle material might not be as aesthetically pleasing or quite as rugged as G10 or other popular handle materials. Still, it is very lightweight, which is essential in an everyday carry knife that you will clip into your pocket all the time. 
Locking Mechanism
A locking mechanism is essential in any working knife. The AutoLawk system patented by CRKT and featured in this knife keeps you safe from the blade accidentally collapsing. It locks up very firmly and securely to minimize blade play and wobble and give you confidence as you work.
The CRKT M16-10KZ is an excellent affordable choice for a folding knife that you can confidently use every day from a very innovative manufacturer. The M16-10KZ won't let you down. 
Geoff has a background as a professional game and deer manager. He has put his years of experience to good use and now lectures at Hartpury College, one of the UK's leading providers of land-based education.
He specializes in training game and wildlife managers who will work in professional game management, conservation, and other outdoor professions. He's been teaching at colleges for eight years and, in that time, has worked at some of the most prestigious land-based colleges in Britain.