Camping enthusiasts will know that the one thing you don't want to be without when setting up for a night in the wilderness, is a reliable, bright camping lantern. No matter what you need to do – pitch your tent, make the fire and cook food, seek out the bathroom in the middle of the night – a dependable camping lantern call make all the difference to the success of your trip.
But how to choose between all the different options out there? We've selected the five premier LED camping lanterns in their particular categories – so you can shop for the best light to suit your particular needs. If you favor light backpacking trips, then a collapsible lantern might be best for you; while, if you enjoy heading out on the water, you might look for a waterproof lantern to ensure the safety of your equipment in any circumstances.
Here is our selection of the 5 Best Outdoor LED Camping Lanterns on the market today.
1. Best Collapsible Portable LED Lantern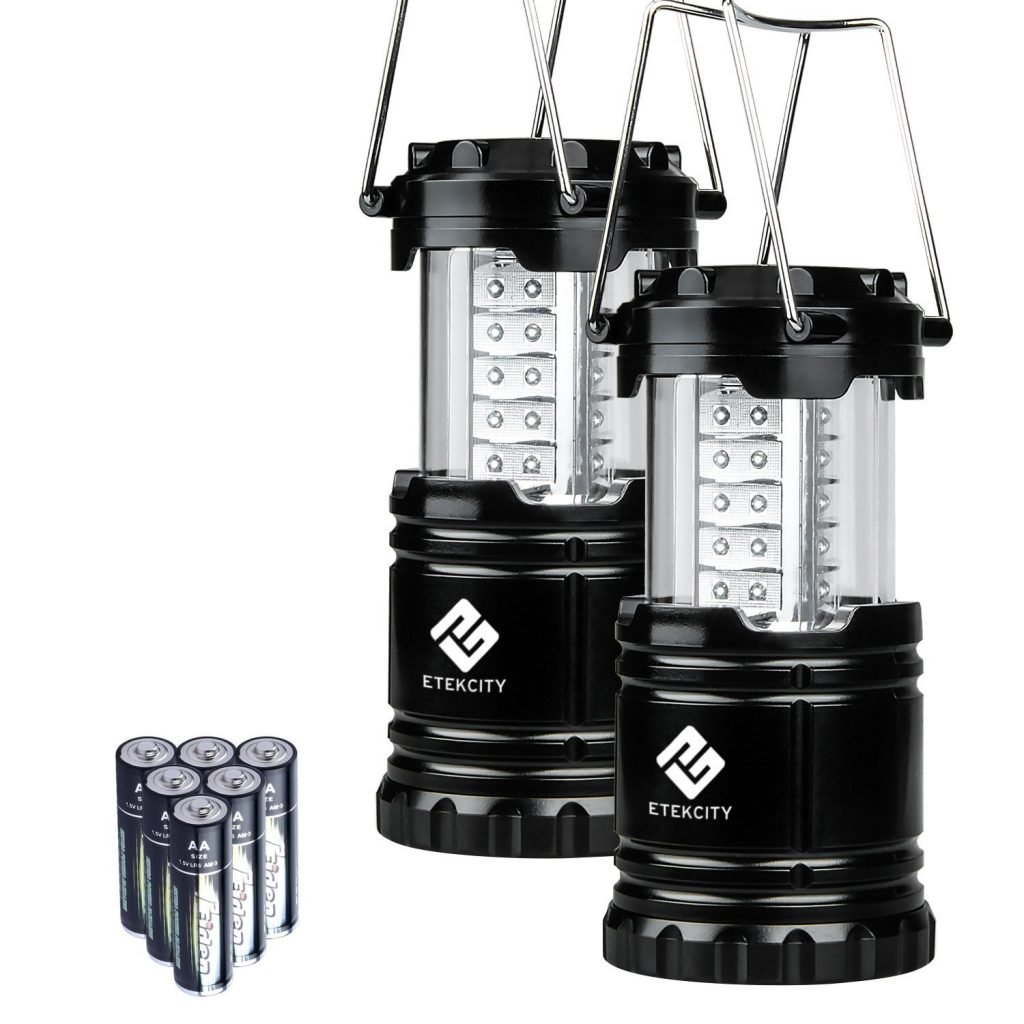 Etekcity Portable Outdoor LED Camping Lantern
Collapsible LED lanterns are brilliant for those who seek portability and practicality over everything else. While it is imperative to take some form of reliable lighting with you when camping, some lanterns can be bulky and difficult to store and carry. collapsible lanterns address this issue head-on, providing a 'fold-up' solution for easily transporting your lantern in your tent bag or backpack. They are also great to store in a cupboard in the house in case of power outages.
The Etekcity Portable Outdoor LED Camping Lantern earns our pick in this category because of its rugged design and excellent value for money. Buyers receive a 'two-pack' when purchasing this collapsible LED lantern – a pair of military-grade foldaway lights that measure just 4.9″ X 3.5″ when in the collapsed position. Weighing only 9.14 ounces each, these rugged lanterns are extremely portable and with withstand almost any conceivable shock or bump during your camping trip.
The lanterns are comprised of 30 low-current consuming white-light emitting diodes that put out a high intensity light in an omni-directional design. This 360-degree 60 lumen illumination is wonderful for campsites, and the lantern features fold-out handles for easy transportation while lit. The lanterns run on AA batteries (included with your order), and feature a power saving design that allows for 12 hours of continuous operation (though the brightness will diminish over time to provide longer-lasting illumination). This power saving capacity is excellent for weekend trips, allowing you to use the lanterns over the course of two nights with without needing to change batteries.
Those looking for a durable, convenient collapsible outdoor LED lantern should look no further than this 'two-for-one' deal from Etekcity. Featuring a great compromise between portability and performance, the only other real competitor in the collapsible market is this ultra-slim option from Unitedtime.
Available from Amazon.
2. Best Rechargeable LED Lantern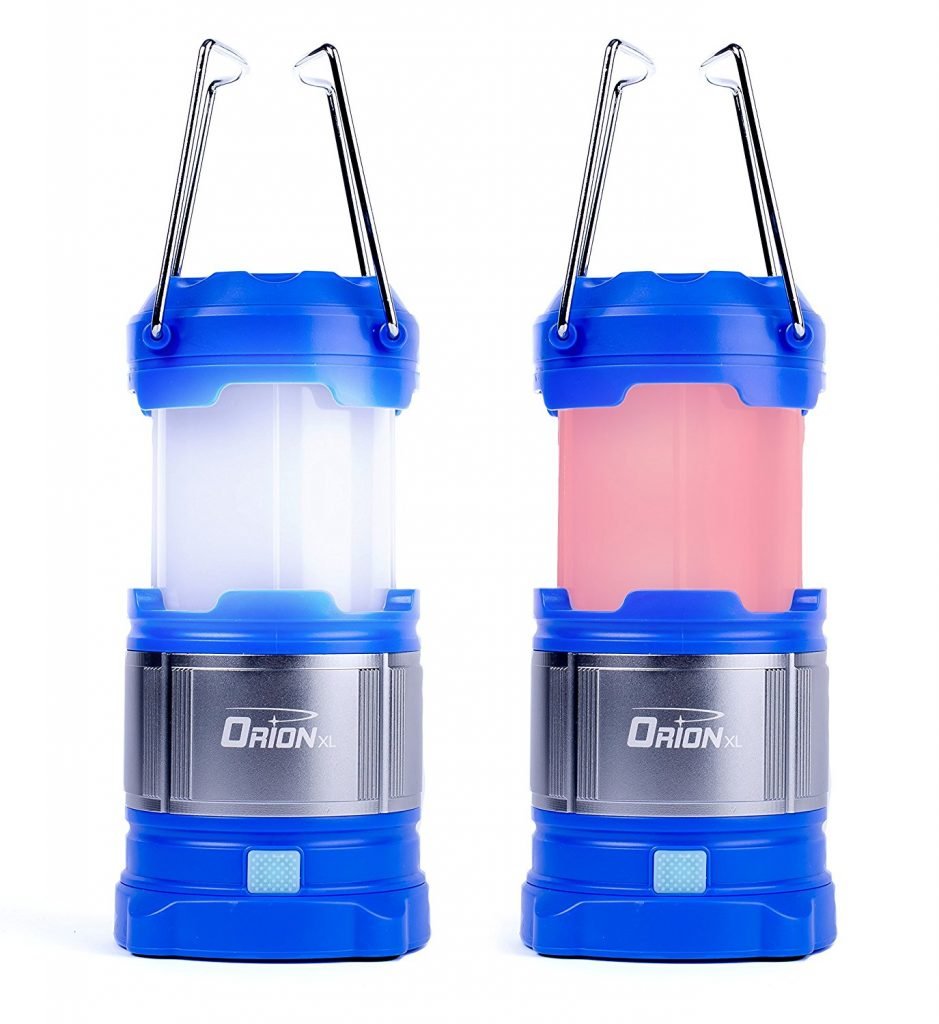 Supernova Orion Ultimate Survival Rechargeable LED Lantern and Power Bank
Rechargeable LED lanterns are best for users who wish to avoid the hassle of replacing batteries for their camping lights. Rechargeable lanterns, moreover, generally offer longer life thanks to their sophisticated lithium ion batteries, and some – like the Supernova Orion Ultimate Survival Rechargeable LED Lantern and Power Bank – are even able to charge your mobile phone or tablet when your device dies during an emergency.
The Orion Ultimate Survival lantern is unique in that it runs off any combination of a single lithium 18650 Battery, dual lithium 18650 batteries, or 3 high capacity intervine AA batteries. These are all included with the lantern, and they can be recharged using the built-in 5200mAh Power Bank. The Power Bank charges the lantern's batteries via a USB cable, and – as mentioned – can be used to charge any device that is able to draw power from a USB source. This is a fantastic feature for camping trips, where one's phone battery inevitably dies before the end of the weekend. Simply take along the fully charged Power Bank and you can restore power to your important devices as well as your lantern.
This lantern from Supernova features an attractive blue brushed steel design, and can in fact be collapsed down to 5 inches for easy storage and transportation. It also has a spring-loaded hanging hook for use in your tent or around the home or garden. Another nice feature is the choice of four different lighting modes – ultra bright, soft white, night vision red and emergency flashing red – just in case you need to communicate with your lantern in emergency situations.
The Supernova Orion Ultimate Survival Rechargeable LED Lantern and Power Bank is backed by a 100% satisfaction, 5-year manufacturer's warranty, and is a great choice for a rechargeable camping lantern. Many users suggest buying it simply for the super-handy power bank and the ability to recharge devices on the move.
Available from Amazon.
3. Best Solar Powered LED Lantern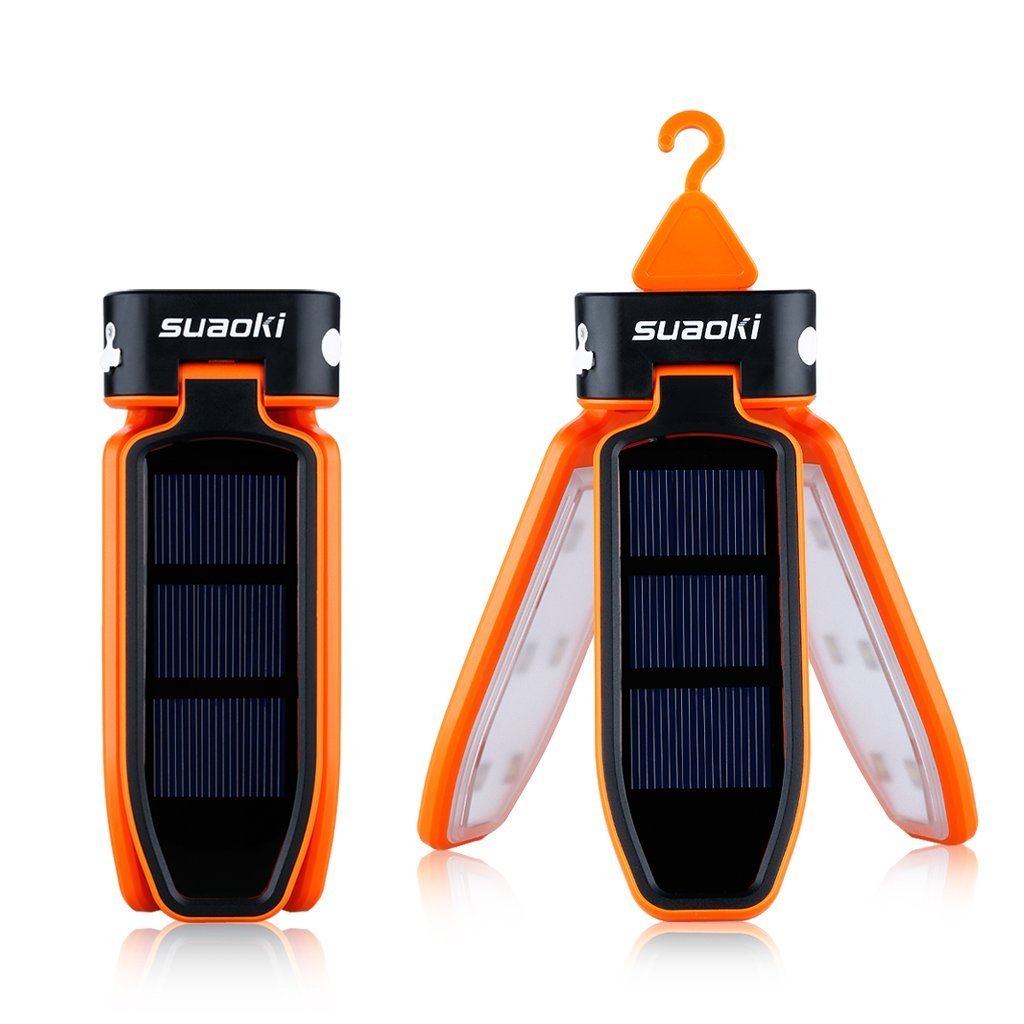 Suaoki Collapsible Clover Style 18 Led Camping Tent Lantern
Solar-powered LED camping lanterns are perfect for adventurous types who enjoy extended outdoor trips, or who like to travel to remote locations where regular battery charging is not a feasible option. The most eco-friendly option on the market, solar-powered lanterns are famously low maintenance and are a natural choice for a 'get away from it all' weekend that features no electricity or other creature comforts.
Moreover, with its funky look and extreme usability, the Suaoki Collapsible Clover Style 18 LED Camping Tent Lantern will appeal to design fans as well. This highly portable, foldable and durable lantern makes use of a 'clover-style' design and can be adjusted to effectively light any space of your choosing. As compact as an iPhone 6 plus when collapsed, the lantern takes up very little backpack space, and its hidden hanging hook design allows you to hang it in your tent or around the campfire at night.The three folding lampshades can be adjusted independently to direct the light towards a specific angle, or the lantern can be set up on its base – and it features three different lighting modes (high, low, SOS blinking) for added versatility.
With one hour of full-sun exposure providing enough charge for 30 minutes of lighting, the lantern is well suited for camping trips – but there is also the option of 'turbo charging' the Suaoki using a USB cable. The lantern ingeniously features a Smart Protection Chip, meaning that the circuit will be guarded against overcharging and over-discharging.
With its smart, attractive design and high functionality, the Suoaki Collapsible Clover Style 18 LED Camping Tent Lantern is a great option for those survivalist types who enjoy long camping getaways where the presence of modern conveniences like chargers and replacement batteries is not appreciated.
Available from Amazon.
4. Best Submersible Waterproof LED Lantern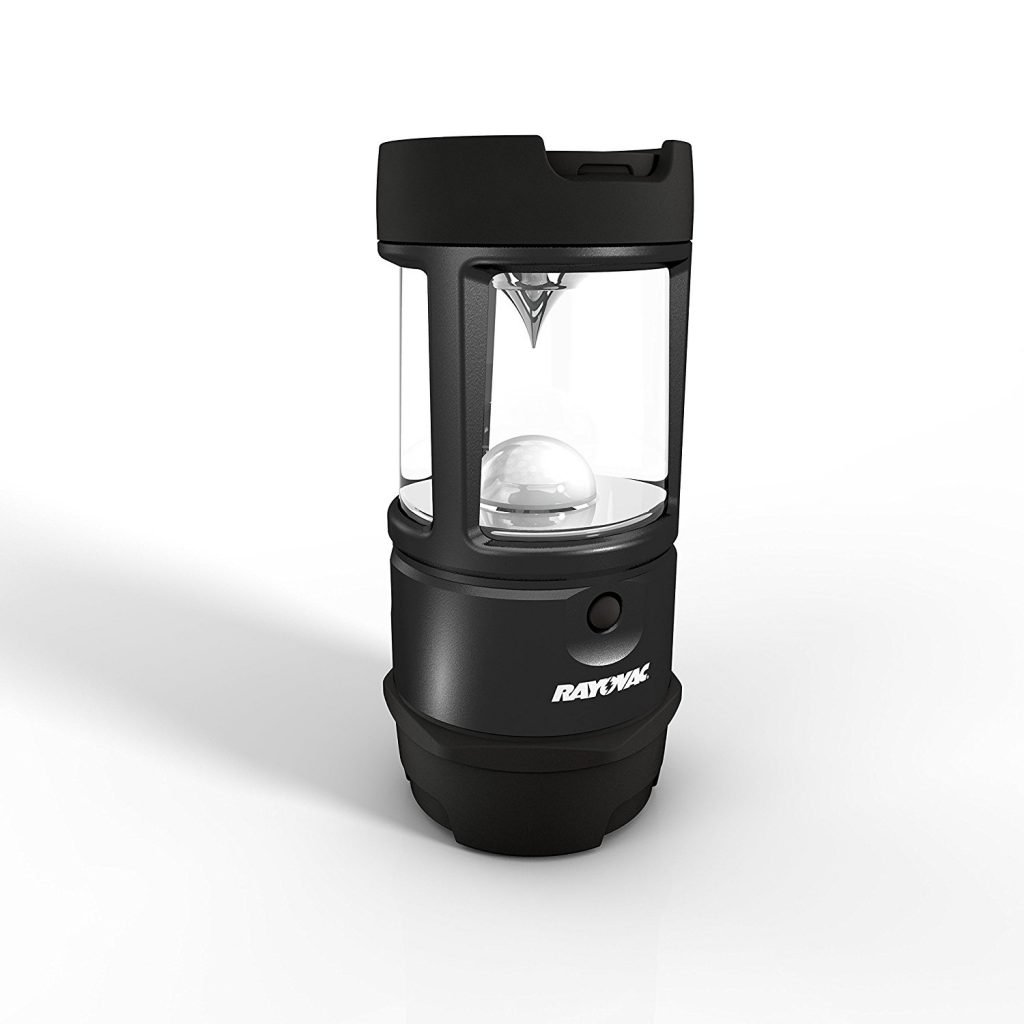 Rayovac Sportsman Virtually Indestructible 400 Lumen 3D LED Lantern
Fans of water sports, extreme hiking trips or tough camping trails will probably want the piece of mind of buying a submersible, waterproof LED lantern. There is nothing worse than losing your lantern to a fishing boat accident or an unexpected downpour, and – if you spend a lot of time in the great outdoors – you will probably need to invest in one of these hardy, rugged light sources at some point in the future, so why not right now?
The Rayovac Sportsman camping lantern claims to be "virtually indestructible" – and it features an astonishing array of safety features that will survive even the roughest outdoor conditions. The lantern features an over-mold rubber head and shatterproof lens and reflector, making it safe for falls up to 15 feet. Not only that, but it is equipped with a fully waterproof and submersible Ansi IPX7 LED system – making it the ideal lantern for more adventurous pursuits such as night fishing or caving. In the 'high' setting, the beam has a reach of over 50 feet and offers a reasonable 5 hours of continuous battery life.
Weighing 2.5 pounds and measuring 9.1 x 8.4 x 10.2 inches, it is not the most portable lantern on the market in terms of sheer backpack space. However, with an impressive output of 400 lumens in the high setting, the Rayovac Sportsman camping lantern is rugged enough to be the only light you will need to take along. Perhaps a bit too much for the weekend camper, but for those who are serious about the great outdoors will find this lantern to be more than a match for their needs.
Available from Amazon.
5. Brightest LED camping Lantern – 800 Lumens
Internova Yeti 800 Monster LED Camping and Emergency Lantern
Sometimes extreme situations call for highly specialised equipment – and there are a number of high-lumen camping lanterns on market for those who need to light large spaces quickly and effectively. Bright camping lanterns are also increasingly being used by professionals (such as decor artists and film technicians) because of their ability to light dark and out-of-the-way areas with minimum set up or fuss.
Our pick is the Internova Yeti 800 Monster LED Camping and Emergency Lantern – a solid, sturdy camping lantern than offers an incredible 800 lumens from its tri-strip LED system. Powered by four D batteries (not included), the Internova Yeti is one of the most potent lanterns available, offering a warm white light capable of illuminating an entire room in its maximum setting. Winner of a Best Extreme Outdoor Gear Gift award (2016), the lantern is not just a 'monster' when it comes to light performance, but also features an extremely useful retractable base hook for alternate hanging. This makes it a real winner for use around the home or garden in the event of a power outage.
Given its 800-lumen output, the Internova Yeti 800 Monster LED Camping and Emergency Lantern has a surprisingly good battery life of 5 continuous hours of use in the maximum setting. An extremely solid option, but those who seek better battery life (perhaps for emergency situations such as hurricanes) should also check out the Blazin' Bison 500-lumen option, which – though not as bright – will last longer in continuous use.
Available from Amazon.