Outdoorsmen used to be in one of two categories. They either bought cheap hiking and camping gear, knowing that they may not use it again, and thus deciding to save money, or they bought high-end gear that lasts them for a good while, even with repeated use.
But recently, there's a third category of campers, which was basically created by manufacturers – they're people who want to get as much bang for the buck as possible, and some manufacturers give them products that fit the bill just right.
One such manufacturer is Klymit. They've got excellent products that are still budget-oriented, but do a great job and with proper care, will last you a good while. One such product is their Traverse double hammock. Even though few people would get excited about a hammock, the Traverse is definitely worth taking a closer look at. Without wasting any more of your time, let's take a look at the Klymit Traverse, so you can see whether it's worth all the hype.
Design and looks
When it comes to a hammock, there's not much you can do in terms of design to make it look good. However, the Traverse does look really nice, coming in a combination of blue and green. It's very simple, yet instantly recognizable – you'll have no problem locating it in a sea of hammocks on your next camping trip. The bag you pack it in also comes in identical green color and looks great.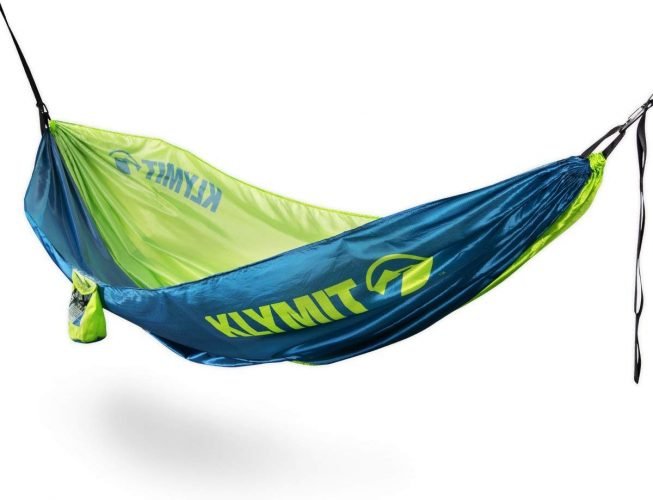 One more thing that's worth mentioning as far as the design goes, is that while the Traverse doesn't come with a sleeping pad, it's actually designed to work with Klymit's Hammock V, and Insulated Hammock V sleeping pads. It fits them just right, and you'll get a very comfortable sleeping experience. You could still get your own sleeping pads, but they may not fit as good as Klymit's.
Choice of materials and construction
When you dive deeper into the Traverse's design and build, you'll find that a lot of thought has been put into making it as comfortable, and as durable, as possible. Its construction is similar to a regular hammock, but there are a few notable improvements.
First, there's the hem. Unlike a regular hammock, here you have a diagonal hem that's seamless. This adds quite a lot of strength and support, and it does so right in the area where the body naturally rests. You get two things here. One, you get a much, much more comfortable sleeping/laying position. In the long term, and with repeated use, this is something you'll notice and appreciate quite a bit. Two, that hem is much more resistant to sagging and stretching over time. A regular hammock will lose these properties, especially cheaper ones, but the Traverse is made to last. You do pay a bit more for the Traverse, but it's very much worth it.
Another thing that's crucial about the quality of a hammock is the choice of materials. No construction is going to last if they aren't good, but the Traverse opts for 70D ripstop nylon. It's an industrial nylon fabric that can be found in a variety of applications and has a 2000mm hydrostatic head. While this isn't the most waterproof option out there, this is a hammock that won't be touching the ground, and you won't be using it to cover yourself, so it's pretty good,  especially when you compare the complete lack of water-resistance of competitive hammocks. 70D ripstop nylon is also famous for its excellent weight to strength ratio, which is another benefit. The hammock itself, with the straps (about which we'll talk in a minute), weighs a mere 31.2oz but can support a total weight of 400 lbs., and this is impressive, to say the least.
Setting up and using the Traverse
We can agree that sometimes hammocks can be complicated to set up or rather unnecessarily difficult. As you'd expect, that's not the case with the Traverse. There are two straps on it, both 11 feet long, and they each have 18 daisy chains. You also get two aluminum carabiners that are pretty strong, so you don't have to worry about falling off. To say that setting up the Traverse is a breeze would be underestimating things. You can have it up in a few minutes, and taking it down to pack is just as easy.
And so we arrive at the last, and potentially most important part of our review – how good is the Traverse as a hammock? We mentioned the excellent build and materials, as well as the ease of use, and we have to say comfort is excellent, too. With a generous weight capacity, you and another person can relax in the Traverse and spend hours without needing to move or readjust your position for a bit more comfort. There's also the side pocket that adds a bit of convenience, as you can store your essentials inside without chasing them throughout the hammock. The dimensions are 110" x 74", which is plenty of room, and it packs within a 5" x 8" bag, which is very compact.

Wrapping things up
As we mentioned earlier, the Klymit Traverse is not for everyone. People who spend a lot of time camping will probably want something even more high-end, with more features, and people who don't want to spend more than a few bucks will find it pricey. Have a look at our Best List here for more options.
However, the Traverse gives you excellent value and a lot of bang for your buck. For a reasonable price, you get a lot of features, as well as a good choice of materials and great craftsmanship. It truly is an excellent piece of gear, and if you find yourself needing a double hammock, and can afford it, by all means, go for it – you won't regret it.